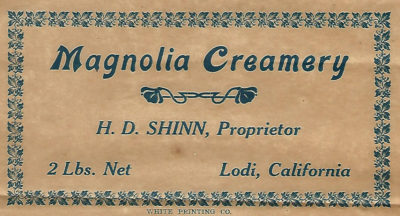 The story of the Shinn family can be traced to the days of "Merry 'ol England" in which the name Shinn (or Sheene, Sheen, Scheene, Sinn, Senn, Shin, Shine, Shyne, Schin, Schyn, Shynne, Shinne, Schynn, etc.) appear in many documents dating back to the early 14th and 15th centuries.
The first Shinn to cross the Atlantic was John Shinn, who by earliest records is shown to have landed in New Jersey circa 1680. The Shinn family prospered in America with family moving about the East Coast. However, the adventurous John R. Shinn, direct descendant of John Shinn, decided to try life across the continent and made his way to California via wagon train in the year 1850. John R. made the trek with a man named Heman Doyle. John R. eventually made his way back to New Jersey and married one of Heman's daughters, Maria, on December 23, 1852. The first of their children, Heman Doyle Shinn, was born in New Jersey on December 8, 1853, but shortly thereafter the family made the trip back to California via ship. The original Shinn Ranch property can be traced back to the lands purchased by John R. Shinn as well as Heman Doyle. John R. Shinn came to California not to find his fortune in gold, but to farm the land. He established our love of farming that has continued on for 6 generations.
After John R. Shinn's passing in 1867 from Malaria, his young son, Heman Doyle Shinn, took over operations of the ranch with his mother Maria. After marrying Emma Sophia Tock in 1874, Heman Doyle Shinn had three children. The 243 acre ranch prospered with the help of the three children and a few hired laborers. In addition to the ranch, Heman Doyle Shinn also owned a blacksmith shop and packing shed in the town of Woodbridge. Elmer John Sr., the middle child, was a great help to his father in the fields and continued the farming tradition established by his grandfather.
At the age of 44, Elmer John Sr. married Gladys Healy. Elmer John Sr. continued to farm the ranch and raise 4 children with his wife. Unfortunately, at the age of 46 he passed away following a heart attack. At this point his oldest son Elmer John Jr. "Jack" Shinn and Gladys continued to operate the ranch and was later assisted by his second eldest son Everett Heman "Bud" Shinn.
Elmer John Jr. "Jack" Shinn married Claire on April 27, 1947. They continued to live on the ranch, raising table grapes, wine grapes and cherries. In 1950 they welcomed William Doyle Shinn into the family and Steven Michael Shinn followed in 1954. Both sons went into the family business and continue to farm today.
Today, we continue to farm the ranch as the 5th, 6th and hopefully 7th generations look to the future of California agriculture and work to preserve and grow our legacy.