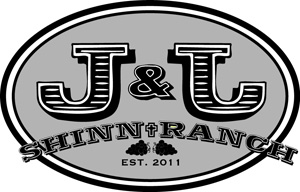 John and his wife Jacquie continue the Shinn family tradition of living and farming on the ranch. They purchased 30 acres of family property in 2012 and currently live in the house built by John's grandfather back in 1947. Since getting married, they have been very busy; Jacquie teaches Digital Photography and Graphic Design at Lodi High, and John is busy farming the ranch and working with his dad managing and custom farming. In additional they have two amazing kids, Ellie Grace and Caleb James-Doyle "J.D.", who represent the 7th generation to live on the ranch, and hopefully one day, to farm it.
More about the Ranch: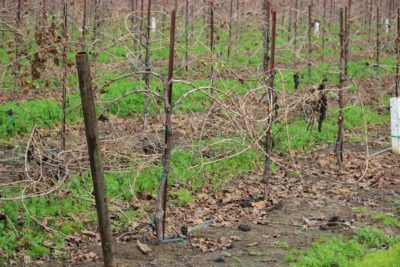 "Shinnfandel" – 7.1 Acres (2014):
What was once a 50-year old, 7-acre cherry orchard up till 2013, the J&J Shinn Ranch Shinnfandel is a Primitivo clone 3 varietal on Freedom rootstock. It was planted in 2014 (same year as Ellie Grace's birth) on a bi-lateral, 10'x6' spacing to maximize production per acre while being able to reduce bunch count per vine and improve quality. It is called Shinnfandel because Shinn sounds like Zin and we thought it sounded cool.  The looser structure of the clone 3 and slightly thicker skin creates very high quality fruit. The Freedom rootstock and sandy loam soils make for great vigor in the plant and excellent sugar accumulation.  In its first year of production in 2016, it produced over 8 tons/acre!  This baby is a great blend of quality and quantity.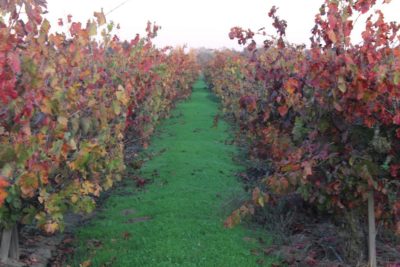 "Mule Plane" Carrignane (really Carignan) – 5.25 acres (1930s)
As the story goes, when John's grandfather (Grandpa Jack) was a child he remembered seeing his uncle planning this field with a mule before planting it to the Carignan vines that are still there now. Given this story, we estimate the vineyards planting to be sometime in the late 1920's to early 1930's making it one of the oldest in the Lodi area. These vines look every bit of their 80+ years being large and gnarly. However, they are still going super strong producing 7 to 8 tons consistently every year. We are very proud of this vineyard and it is finally getting some recognition. The M2 winery in Lodi and Holman Cellars in Napa have started sourcing fruit from here, and it is continuing to draw attention from other winemakers for quality and character. A majority of the fruit from this block is packed and shipped, by S&L Vineyards, back east for smaller winemakers and wineries to enjoy.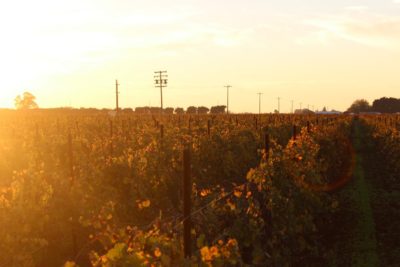 "Doron Eressea" Pinot Grigio – 11 acres (2001/2015)
This field derives its name from the beautiful and rather large oak tree that sits at the east end of the field near the middle of the river block. "Doron Eressea" is translated as "Lonely Oak" in J.R.R. Tolkien's High Elvish. Yes, John is a HUGE Lord of the Rings fan and has paid homage to the Middle Earth with this block. This picturesque, cane pruned Pinot Grigio vineyard on vertical trellising started out life as Merlot. However, after the movie Sideways killed the Merlot market, and after the last good contract for it was up, we were offered a contract for 10 years to graft to Pinot Grigio. Loving the idea of not having to search for a contract for 10 years, we jumped on it, and in 2015 (the same year J.D. was born) cut the merlot cordon off and grafted on bud wood from Vintage Nursery. We used Clone 4 wood grafted on to 15 year old trunks with 101-14 MGT rootstock.  In its first year of production, we got almost 8 tons per acre off this highly productive vineyard.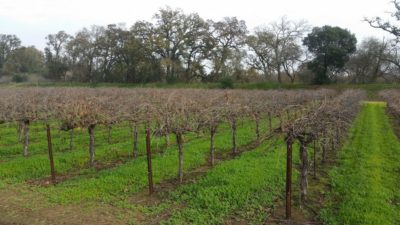 "Sir ta Gwin" Syrah – 5 acres (2000)
"River and Vine" is the Tolkien Elvish name for this vineyard. Its close proximity to the Mokelumne River helps supply this block with ideal growing conditions.The smallest of the J&J Shinn Ranch blocks, but by far not the least, this very vigorous clone of Syrah on 5BB rootstock is planted east to west on a 10'x7' spaced quad trellis to maximize production and also improve quality. Like most Syrah vines, this one puts out a lush and huge canopy, especially on the quad trellis. If we don't get some carbon credits for this, I don't know who would J. The grapes, especially when they have been left on the vine to start some mild dehydration and shrivel produce a wonderfully fruity and fun flavor with great color and mild tannin. We are currently shopping for a contract for the Syrah, so if you are interested, please contact John.
More Photos: